Recycle Video from Johns Disposal on Vimeo.
Recycling more of your trash is an important way you can help preserve our environment, reduce our consumption of precious natural resources, and save our Village money. Only with your help can we reach our recycling goals.  Each item that is removed from the waste stream reduces our trash disposal costs – all while helping to preserve our environment.
Curbside recycling guidelines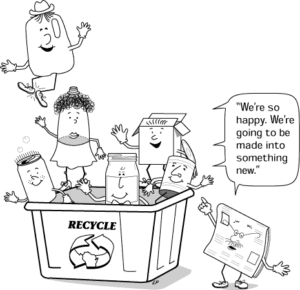 (for residents with municipal trash collection)
Set out recycling (green) tote by 6 am
Separate your recycling from your trash
Cart should be placed within 2 feet of the curb on one side of the driveway. Arrows on the lid of the cart must point to the road
PAPER AND CARDBOARD
"IF YOU CAN RIP IT, YOU CAN RECYCLE IT"
MIXED PAPER WOULD INCLUDE:
NEWSPAPERS
MAGIZINES
BOOKS
MAIL
SCHOOL/OFFICE PAPER
BROWN CORRUGATED CARDBOARD (PLEASE EMPTY AND FLATTEN)
GRAY CHIPBOARD WHICH INCLUDES CEREAL AND SHOE BOXES
AND BROWN BAGS.
PLEASE PUT SHREDDED PAPER IN A CLEAR PLASTIC BAG AND PLACE IN GREEN CART
GLASS, METAL, AND PLASTIC CONTAINERS
PLEASE PLACE IN THE GREEN CART:
ALUMINUM FOIL
TIN CANS
STEEL CANS
AEROSOL CANS
DRIED OUT PAINT CANS
GLASS BOTTLES/JARS (no need to rinse out)
PLASTIC # 1 – 7
THINGS THAT BELONG IN THE TRASH
PLEASE PLACE IN THE BROWN CART:
PASTIC WRAP
PLASTIC BAGS
BROKEN TOYS
BAGGED GARBAGE
FOOD WASTE
STYROFOAM
THESE ITEMS CAN NOT BE RECYCLED AT THE RECOVERY FACILITY.
Other ways to "recycle"
Choose products with minimal packaging and buy in bulk
Chose durable, reusable products over single use, disposable items
Reuse bags, containers, packing material and other items.
Donate unwanted items
Reduce your use of paper
Not sure where to recycle items try this link to the UW Extension 
Disposal ban background information:
The following items are banned from landfills and incinerators in Wisconsin and should be recycled:
  Televisions
  Computers (desktop, laptop, netbook and tablet computers)
  Desktop printers (including those that scan, fax and/or copy)
  Computer monitors
  Other computer accessories (including mice, keyboards and speakers)
  DVD players, VCRs and DVRs
  Fax machines
  Cell phones
Many electronics recyclers will also accept other types of electronics like stereo equipment, mp3 players,digital cameras and other hand-held devices. Check with the electronics recyclers or collection sites near you for a full list of what they accept.
Background information on why it is important to e-cycle
E-waste is one of the fastest growing parts of municipal solid waste worldwide. People have more electronic devices than they did in the past and they are replacing them at an ever-faster rate. Electronics contain valuable reusable materials, including plastics, metals and glass. Recycling or reusing these materials lessens environmental impacts and economic costs by reducing the need for virgin materials in new products.
Electronics also contain harmful materials, including lead, mercury, cadmium, chromium, other heavy metals and chemical flame retardants. When improperly disposed of, these chemicals can pollute our soil and water and impact human health.
Improperly handled e-waste also poses health risks to workers in the United States and in developing countries. Many old electronics are recycled into new electronics. To see what happens when electronics are recycled, watch the video "What Happens When I E-Cycle" at dnr.wi.gov, search "ecycle."
*You can find an electronics collection site near you by going to www.dnr.wi.gov, search "ecycle" and click on "find".
Waste & Materials Management
E-Cycle Wisconsin registered collection sites
Site Counties: Kenosha
For more information and details, go to the link below:
E-cycle in Wisconsin
*The Village of Paddock Lake hosts bi-annual electronics collection events (spring & fall) for our residents' convenience.  Watch your Village Newsletter for details and dates.